I was at a baby boomer symposium recently and the leader said that it was just an experiment. She thought 80 people would show up but there were at least 200 people in the room. She said "It's a successful experiment" but I see it as not just an experiment but as a statement of how baby boomers are very engaged in the "What's Next" question for their lives after they hit 50. I know I am.
What Kind of Life Do You Want to Live in Your Retirement?
We need to ask ourselves what kind of life do we want to live? Where do we want to live? Do we want to downsize or not? Do we want to move to a dream destination or stay put? Do we want to live near our grandchildren? All of these questions, and more, bring up the most important question which is "Can I afford to do the things I want to do in my life if I remain where I am (physically and metaphorically)?
If the answer to that last question is no, then you need to figure out how you'll be able to work toward being able to afford those things, doing what you want and how you want to do it.
Would you consider starting your own business or do you want to work for someone else for the rest of your life? Be careful about that last question, though, because it might not be so easy finding another job when you're over 50. "Age is a hindrance in the corporate job world, but it's a major benefit in the entrepreneurial world," says Jeff Williams, the Arlington Heights, Ill., founder of Bizstarters.com, a website for boomer entrepreneurs. "They may not hire you after 50, but they'll sure buy from you."
Just How Do You Figure Out What You Should Do?
If you decide that you'd like to start your own business, the most important question to consider is WHY? When you answer that question, don't just say "It's because I want to make some extra money". That's fine, but in order to be really successful in any business, you need to have a really good reason that goes beyond "I want to make some extra money". It actually shouldn't be about the money at all. It should be about fulfilling your passion and having a great reason to get up every morning. What would your ideal life be like? If you could have everything you wanted, what would that entail—money and otherwise? This is THE REASON you should be starting a business.
Start by pulling out a notebook and writing down your ideas. Brainstorm and write down what you're passionate about, what you enjoy doing, what you would do even if you didn't get paid for it, what are your hobbies?
What Business Model Should You Choose?
Once you know what you want to design your business around, then you need to decide what business model you'd like to use. You could buy a franchise, but the upfront capital would be at least $125,000. You could open a brick and mortar store. That would involve inventory and overhead in the way of rent, utilities, and staff. There's always coaching and if you are an expert in your field, that would be a good option. You would need to network a lot to get your name out there and at the beginning, you should give your services away for free (or at a drastically reduced rate) to a few people just so you can build a list of references. All of these ideas sounded interesting to me too when I got started, but when push came to shove, I decided that I wanted to work from home…no overhead, no inventory, and I could work whenever I want (in my pajamas).
When I started my home business, ultimately I decided on network marketing since that's what I had always heard about. I've been with three different opportunities and I was starting to see some success in my third one when my star distributor quit and took her whole team with her to another company. That's when I went online to learn how to attract new business partners through social media. What I found was a whole new world of internet marketing and people from all over the world and I love it. I became more passionate about the systems that were teaching me how to find business partners than the network marketing opportunity I was promoting. The idea of not having to rely on a team to become successful really appealed to me and affiliate marketing became my new career choice.
Why Affiliate Marketing & How to Pick the Right Product(s)
An affiliate program is an essential marketing tool for every online business. You'll notice that most businesses, that have an online presence, have an affiliate program. That's because it's very cost effective to offer commissions to online entrepreneurs who want to promote their products for a commission. The companies don't have to pay a commission until after a sale is made. And, the online entrepreneur doesn't have to produce their own products to sell. It's a win-win situation.
Which company is right for you?
With so many companies out there, how do you know which one (s) to pick? Let's think about this. There are affiliate companies like ClickBank that have thousands of products for you to sell but the commissions they pay are small. In order to make a decent income, you would have to sell lots of products from their website. Wouldn't it be better to find a company that sells products that cost a little more and offer higher commissions? That way, you wouldn't have to sell as many and you would have the potential of making a lot more money.
When looking for the right company to partner with, make sure they have a solid leader who has your best interest at heart. Also, look for a company that offers great training and coaching. For someone who's just starting your online business, this is very important. Mentors, or the lack thereof, can either make you or break you. You can't do this alone (nor should you have to). Find a company that offers great products that teach everything from the fundamentals of building a business all the way up to developing an exit strategy.
The one that I decided on and that I highly recommend is The Turnkey Business System.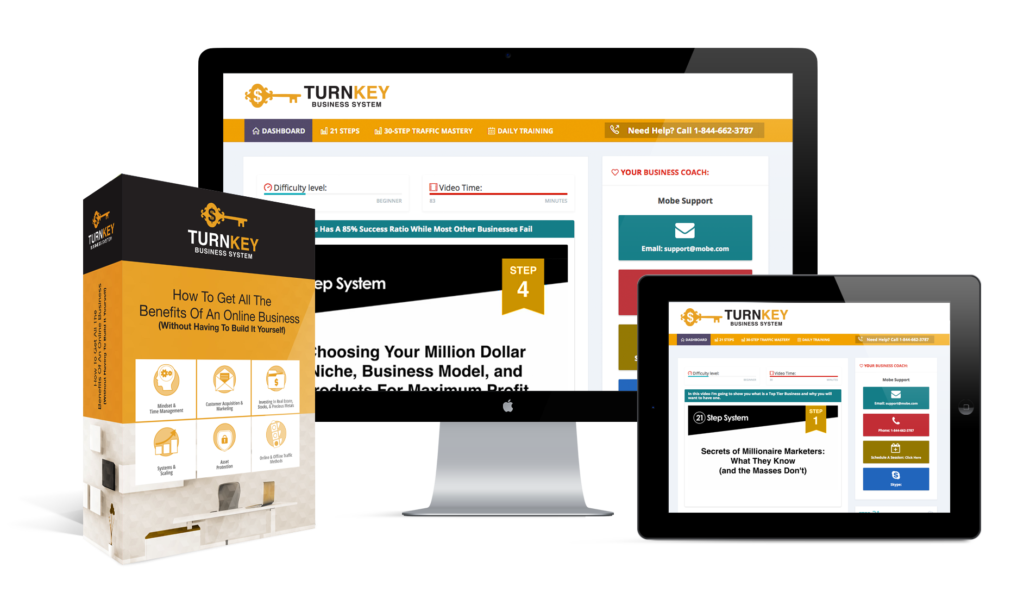 Here is what's included in the Turnkey Business System:
A proven sales system that deposits commissions into your bank account every two weeks!
Done for you product fulfillment, payment processing, and customer service.
Insider access to powerful sales funnels that sell high-quality programs to your leads!
A simple 21-step training program that shows you how to send leads and earn up to $20,000 per customer (even if you have no computer skills).
A professional phone sales team, that closes high-tickets sales for you (so you never have to sell anything yourself).
Daily training lessons, videos, and webinars.
It took me a couple of years through trial and error to find this company and the system is far beyond what any other company had to offer. They teach you how to pick your niche and your target market, so even if you have no idea what you want to do but you know you want to start your own business, this is where you need to start.
I hope I've helped you on your journey into "What's Next"! If you have any questions, let me know and I'd love to see your comments below.
To your success,