I get it. You did everything by the book and it wasn't enough. Your retirement savings (if you have any) may not be what you thought it would be when you started working twenty, thirty, or even forty years ago. You may be thinking that you don't have enough time left to make the kind of money that you'll be able to live on in retirement and you're dreading the day that you have to depend on your friends or family to help you. Or, perhaps, you're looking to bump your income up to the level where you can really live your dream lifestyle. You know you still have earning power but you have no idea how to earn the kind of money you need. You're not alone.
According to the latest Retirement Confidence Survey by the Employee Benefit Research Institute, 3 in 10 workers report that they feel mentally or emotionally stressed about preparing for retirement. In addition, another 3 in 10 say that they worry about their personal finances while at work (30 percent). Half of these workers believe they would be more productive at work if they didn't spend time worrying. Among all workers, about half say that retirement planning (52 percent), financial planning (49 percent), or healthcare planning (47 percent) programs would be helpful in increasing their productivity. Yet, many workers are not taking critical retirement-planning steps. Six in 10 workers (61 percent) say they have saved for retirement. Just 4 in 10 have tried to figure out how much money they will need in retirement (41 percent). In addition, similarly low shares have estimated how much income they would need each month in retirement (38 percent) estimated the amount of their Social Security benefit (38 percent), or estimated their expenses in retirement (34 percent).
If you have debt, your likelihood of retiring gets narrower. You definitely want to pay off as much debt as possible before even thinking about fully retiring. But, what if you can't see a way to do that? What if you don't have the financial resources you need to pay off that debt (i.e. mortgage, student loans, credit card)? Retirement becomes less of a dream and more of a nightmare!
But, it doesn't have to be!
You could open a brick and mortar business but that would cost hundreds of thousands of dollars. Statistics tell us that nearly 50% of all new businesses fail within the first year anyway, so you may not want to try this.
You could find a part time job at a retail store or in an office somewhere, but that's defeating the purpose of "retirement" and living your life the way you want to. Your goal should be to do something that would free you from constraints…something that you can do from anywhere.
Home based businesses are a great alternative for you to consider. There are so many possibilities that you can research. There's network marketing, consulting in an area in which you're an expert, direct sales, dog walking, baby sitting, and my personal favorite…affiliate marketing.
What is affiliate marketing?

That's the definition but it's such a broad term and there are so many companies that offer affiliate programs. If this is something that interests you, you should really weigh your options carefully. When I was first introduced to it, I looked at the most well known site called Clickbank. It's an affiliate program that offers hundreds, if not thousands, of products for every niche imaginable but the problem is, it pays pennies on the dollar.
There are other ones too like Commission Junction and JVZoo which offer great products, but they, too don't pay a lot on each sale. You'd have to sell hundreds of products to make the kind of income you're probably looking for. And, let's face it, when you're working from home and want to fit your work in around your life (not the other way around), you don't want to have to sell hundreds of products in order to live.
Which leads me to HTAM or High Ticket Affiliate Marketing. If you could join a system where you would only need to sell 10 of something in order to make the same type of money with the other kind where you would need to sell 100, which one would you choose? Ok, that was a trick question. LOL!
I found a lot of systems out there when I was on my search for the right one. Some bad, some good, some awful, but there is one that sticks out way above the rest. My criteria (and yours should be too) for a good system is:
Good products
Good leadership with integrity
A wide range of products with pricing from very low (for opt-ins) to very high
Step by step training – this is important for those who don't have any experience in online business or owning their own business of any kind
Supportive community
Responsive customer support
Personal coaching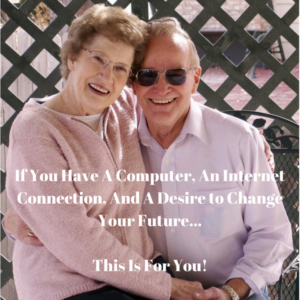 What do you have to lose to check this system out.
I hope I've cleared up any confusion you may have had about what direction to turn with setting up your retirement on your terms. Let me know what your thoughts are. I really hope you like this system as much as I think you will. As always, I'm here for you if you have any questions.
Till next time,