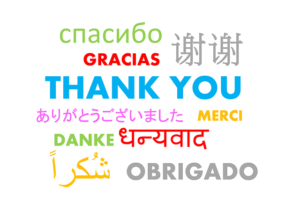 Tomorrow is Thanksgiving in the United States and today is the day when tons of people are starting their journeys to be with their families and friends.
So, I just wanted to, first of all, tell of my readers and followers how grateful I am for you today. And, secondly, I want to explain how gratitude relates to your business.
Having an attitude of gratitude opens your mind to your inner self, your creativity, your self worth, and all that is necessary to becoming as successful as you want to be.  On the contrary, if you walk around bitter and not feeling grateful for all the good in your life, your mind automatically shuts down to new ideas.  Try it…it really works!
In fact, research increasingly shows that thanking folks not only results in reciprocal generosity (where the thanked person is more likely to help the thanker), but stimulate charitable behavior in general.  Adam Grant, one of the most prolific and youngest tenured professors at  Wharton School of Business has spent the last 12 years in his field of organizational psychology, the study of workplace dynamics, and wrote a book called "Give & Take" that discusses how gratitude plays a key role in business success.
Saying thank you is an emotional act. It doesn't just acknowledge someone's effort, kindness, intent, or action. It recognizes the person himself. It's even more important than acknowledging the principal person you are doing business with because it sets a tone for discussion. And it is a winning tone.
I read an article by Lori Worth on this website  and she points out that when your heart is full of gratitude and you put forth effort to show your gratitude, a few really great things happen:
You feel absolutely awesome.
When someone knows you are genuinely thankful for them, they feel absolutely awesome.
When appreciation is shown to people or teams, they are motivated to do more of the same thing that created gratitude in the first place.
You will feel inspired to grow, reach and do.
You begin to become keenly aware of other things to be gracious for.
You feel and show respect for purpose, people and position.
So, that's how I'll leave you this day before Thanksgiving…BE GRATEFUL!! It will help you in your business more than you realize.
Enjoy family time and I'll see you after Thanksgiving!
Jan
P.S.  I hope you found value in my post and you feel like sharing it with your friends! If so, feel free to comment below and share it on your social networks!